Roger Phillips

In 1975 Roger Phillips began his life's major work of photographing and publishing pictures of the World's garden plants. Using modern photographic techniques, Roger set out to develop an encyclopedic collection of books to show the difference between plants as diverse as mosses, roses and annuals. His first book 'Wild Flowers of Britain' was a huge success, selling 400,000 copies in the first year. He has since written 20 additional volumes (often with his co-author Martyn Rix) selling over 4.5million copies worldwide.

Roger has written and presented two major six-part TV series on gardening (BBC & Channel 4). Famed for his ebullient personality and garish red glasses, he has become a well-recognised figure in the world of gardening.

Roger trained at Chelsea School of Art from where he entered a career in advertising culminating in the position of art director at Ogilvy & Mather Advertising. He left O&M to start a career as a freelance photographer, winning many awards before turning his photographic talents to the world of natural history.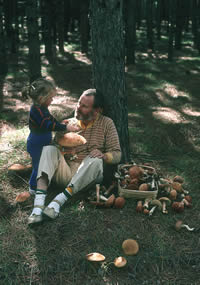 click here to contact us